Performance Characteristics of Contact Agar Medium 5x5
1. It is widely used in environmental sanitation, apparatus, sedimentation bacteria and hand colony inspection.
2. It can be used directly after opening, no need to prepare medium which saves time and effort.
3. The medium area is 24 cm². It is divided into several small cells which are easy to count.
Agar Medium Type
AC• Standard Plate Counting Agar Medium
Used for the identification of the total bacteria number.
EC•Three-color agar medium
Escherichia coli and coliforms are simultaneously detected.
E.coli colonies are blue to light purple.
Coliform colonies are red to purple.
Other intestinal bacterial colonies were milky white.
SA•Staphylococcus aureus agar medium
Staphylococcus aureus forms black colonies on the surface of the culture medium, and due to protein breakdown, a transparent hemolysis ring or turbid zone is formed around the Staphylococcus aureus colonies.
PD•Yeast, mold agar medium
For the identification of yeast and mold.
Usage Method of Contact Agar Medium 5x5
1. Remove the medium from the bag.
2. Open the lid and press the petri dish directly onto the sample to be sampled.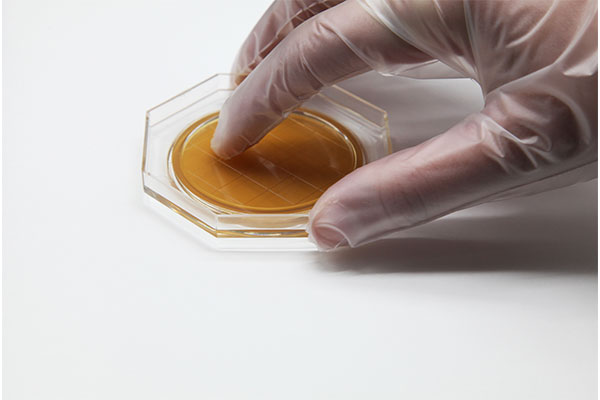 Press sampling
3. Cover the lid, mark it in the blank column of the container, and culture it in the incubator.
4. Colonies were counted after culture. Medium area: 24 cm².
Product Details of Contact Agar Medium 5x5
Name
Characteristics
Package
Culture time
Validity Time
Agar Stamp AC
Total Bacteria Count Agar, 10cm²
10pcs/bag; 100pcs/box
48±2 hours
6 months
Agar Stamp EC
Coliform group&E.coli Count Agar, 10cm²
24 hours
Agar Stamp SA
Staphylococcus aureus Count Agar, 10cm²
24~48 hours
Agar Stamp PD
Yeast&Mold Count Agar, 10cm²
5 days
Note: 1. The product should be protected from light and stored at room temperature.
2. It should be used as soon as possible after unpacking.
3. When there are water droplets in the container, please gently remove the water droplets and use.