Coliforms • E. coli liquid chromogenic medium
Performance Characteristics
1. It is included in the "Japan Food Hygiene Guide" (2004 edition) with strong authoritative influence.
2. There are two kinds of chromogenic substances, which can directly recognize coliforms and E. coli.
3. The test results can be obtained within 4.24 hours, but BGLB takes 48 hours.
4. No need for fermentation tube and constant temperature pool with low cost and easy operation.
5. No need to prepare medium and wash tubes (except XM powder medium).
6. No need for identification and supplementation experiments such as EMB culture.
7. E.coli O157 cannot be identified separately but qualitative testing only.
Usage Method
1. Container surface sterilization: The surface of the aluminum foil should be disinfected with an alcohol lamp before use.
2. Opening: Open the aluminum foil with an MT opener (OS-01) or open directly with a sterile pipette.
3. Inject the sample diluent: use a pipette to inject the sample dilution into the cup
XM-30: 1ml, XM-31: 10ml, XM-32: 5ml
4. Cultivation: Culture time: 24 hours; Culture temperature: 36 ± 1 °C
5. Disposal: Dispose of them after sterilization
※XM powder medium usage: Dissolve 500ml of pure water per bag, inject 10ml into the test tube, autoclave, then inject 1ml sample, and incubate at 36±1°C for 24 hours. The identification method is the same.
Color Development Principle
Coliforms positive
There is a special β-galactosidase only exit in the coliforms. β-galactosidase can be used as an indicator enzyme for coliform bacteria, which catalyzes the hydrolysis of the substrate X-GAL to form 5,5-dibromo. -4,4-dichloro indigo, appearing light blue ~ purple blue.
E. coli positive
β--glucuronidase can be used as an indicator enzyme for Escherichia coli; because β-glucuronidase can be observed in Escherichia coli, Salmonella and Shigella in intestinal bacteria, and 95% of E. coli contains β-glucuronidase. β--glucaldehyde catalyzes the hydrolysis of MUG to form 4-methylumbelliferon, which exhibits fluorescence at 366 nm ultraviolet light and is visually discernible under indoor light intensity.
Name


Model

Application

Capacity

Packing

Validity Period

Liquid chromogenic medium

XM-30

For 1ml sample inspection

10ml/cup

128 cups/carton

1 year

Liquid chromogenic medium

XM-31

For 10ml sample inspection

10ml/cup

128 cups/carton

Liquid chromogenic medium

XM-32

For 5ml sample inspection

5ml/cup

128 cups/carton

XM powder medium

XM0001

For preparing medium

8.5g/bag

20 bags/carton

3 year

MT opener

OS-01

For MT container opening

/

1pc

/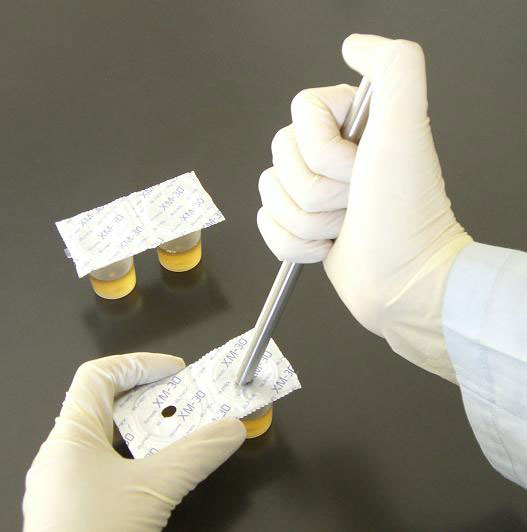 Step 1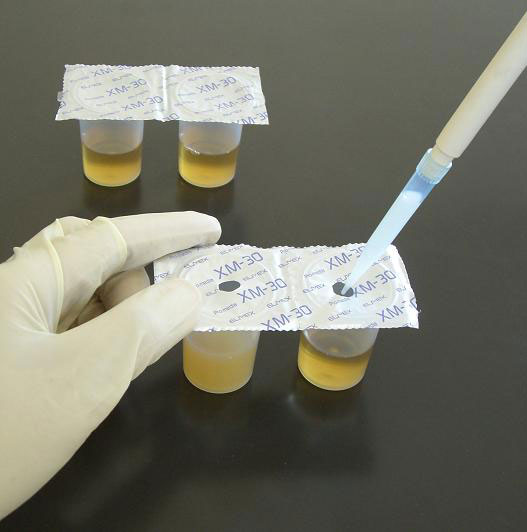 Step 2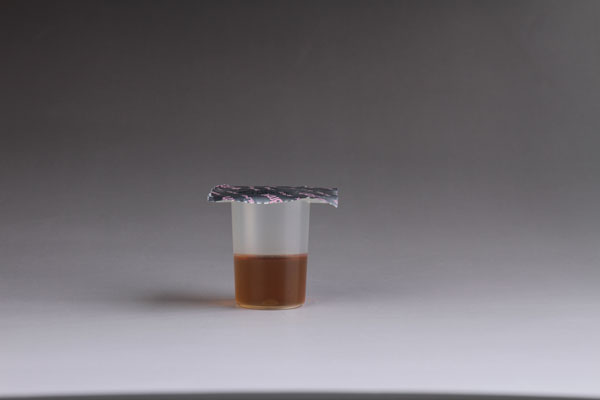 Primary color - negative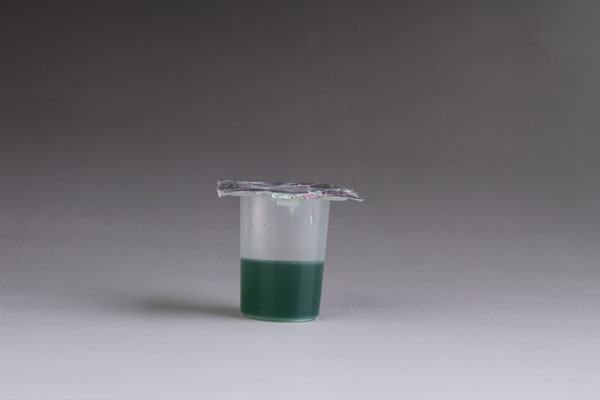 Blue - coliforms positive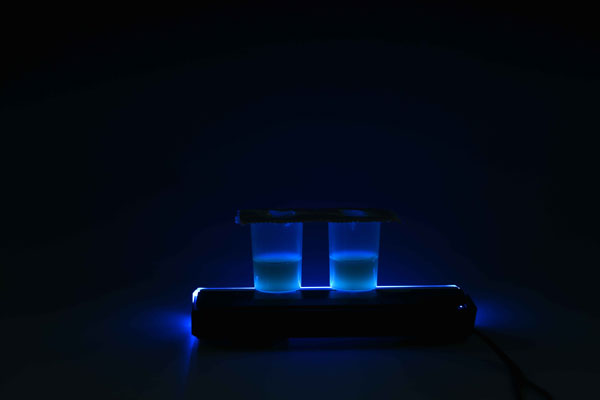 Fluorescence--E. coli positive